"Minna Herralan valokuvissa piilevät syvälliset, jopa vaikeaselkoiset merkitykset helposti lähestyttävissä, jopa arkisissa aiheissa. Tätä käsitystä nimitetään kätketyksi symboliikaksi. Minna Herralan kohdalla palaseen leipää tai kovassa käytössä kuluneeseen saippuanpalaseen on kätketty emblemaattisesti empatian teema."
"Mikäli taiteilijan tuontantoa tarkastelee suurena kokonaisuutena, huomaa tarkkaavainen silmä alati toistuvan ja erilaisina variaatioina toistuvan muodon: pyöreyden, ympyrän muodon. Pyöreänpehmeä ilmaisumuoto on Minna Herralalle tapa ilmentää sanomaa, joka ei huuda eikä julista, vaikka sisällöt sitä vaatisivatkin. Sisäänpäinkääntyneisyys ja toiseuden teema kiertää viivan yhä uudelleen pyöreäksi muodoksi." Maaria Salo, taidehistorioitsija, kuvataidekriitikko
"Minna Herrala's photographs hide deep, even obscure meaning in easily approachable, even mundane topics. This concept is called hidden or disguised symbolism. In Herrala's case, the theme of empathy is emblematically hidden in a slice of bread or used and worn piece of soap."
"If you view the artist's production as a large entity, a careful eye will notice the ever-repeated and varied form: roundness, the shape of a circle. To Minna Herrala the soft and round expression is a way of embodying a message that does not shout or proclaim, even if the content would so demand. Inwardness and the theme of otherness keep curving the line into a round shape,over and over again." Maaria Salo, art historian, art criticist
AJANKOHTAISTA /CURRENT
2020 What`s it like to be an animal , Seinäjoen Taidehalli , Kalevan navetan kulttuurikeskus
2020-2021 BELA Biennial , Cable factory , Helsinki
2021 Animalistic -animal ethics , drawings and installations ,
*Varkaus Art Museum, Varkaus
*Varikko Gallery, Seinäjoki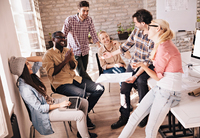 Tässä tekstisi alkaa. Voit klikata tästä ja alkaa kirjoittamaan. Sed ut perspiciatis unde omnis iste natus error sit voluptatem accusantium doloremque laudantium totam rem aperiam eaque ipsa quae ab illo inventore veritatis et quasi.
Ea commodi consequatur quis autem vel eum iure reprehenderit qui in ea voluptate velit esse quam nihil molestiae consequatur vel illum qui dolorem eum fugiat quo voluptas nulla.